The scents and colours in nature tell us enough: we are leaving summer behind and heading for autumn. A period in which the sunny exuberance makes room for the calmer, warm colours of nature. It's harvest time. And we're doing it by bike.
Our cycling trip starts in the woodlands of Gaasterland. The sun is shining through the natural leaf filters, producing breathtakingly beautiful colours. The shades of yellow, red, brown and a hint of green light up the leaves. We inhale the late summer scents. The Indian Summer, we don't need to travel to America for that. For us, it starts at point 20 of the cycling network in Southwest Friesland.
TaKe WITH YOU
Bike bag with a bucket or damp cloth for the flowers.
The beautiful treasure of Sloten
In a quest for 'slow food', we continue to cycle over the Gaasterland hills to Sloten, one of the 11 famous Friesian towns. Here, we discover our first treasure, De Kaai corn mill. It's a striking beacon on the fortified walls. In the summer months, the town cannon still roars here each week. Now all we hear is the swish of the sails. Miller Tanja Kombrink welcomes us warmly and explains that the grain has been harvested in August. Each Saturday, it is ground into flour between the enormous millstones, using only wind power. This is traditional expertise at its best. We fill our bike bags with farmhouse pancake mix and cake mix. They'll come in useful later for an autumn baking session.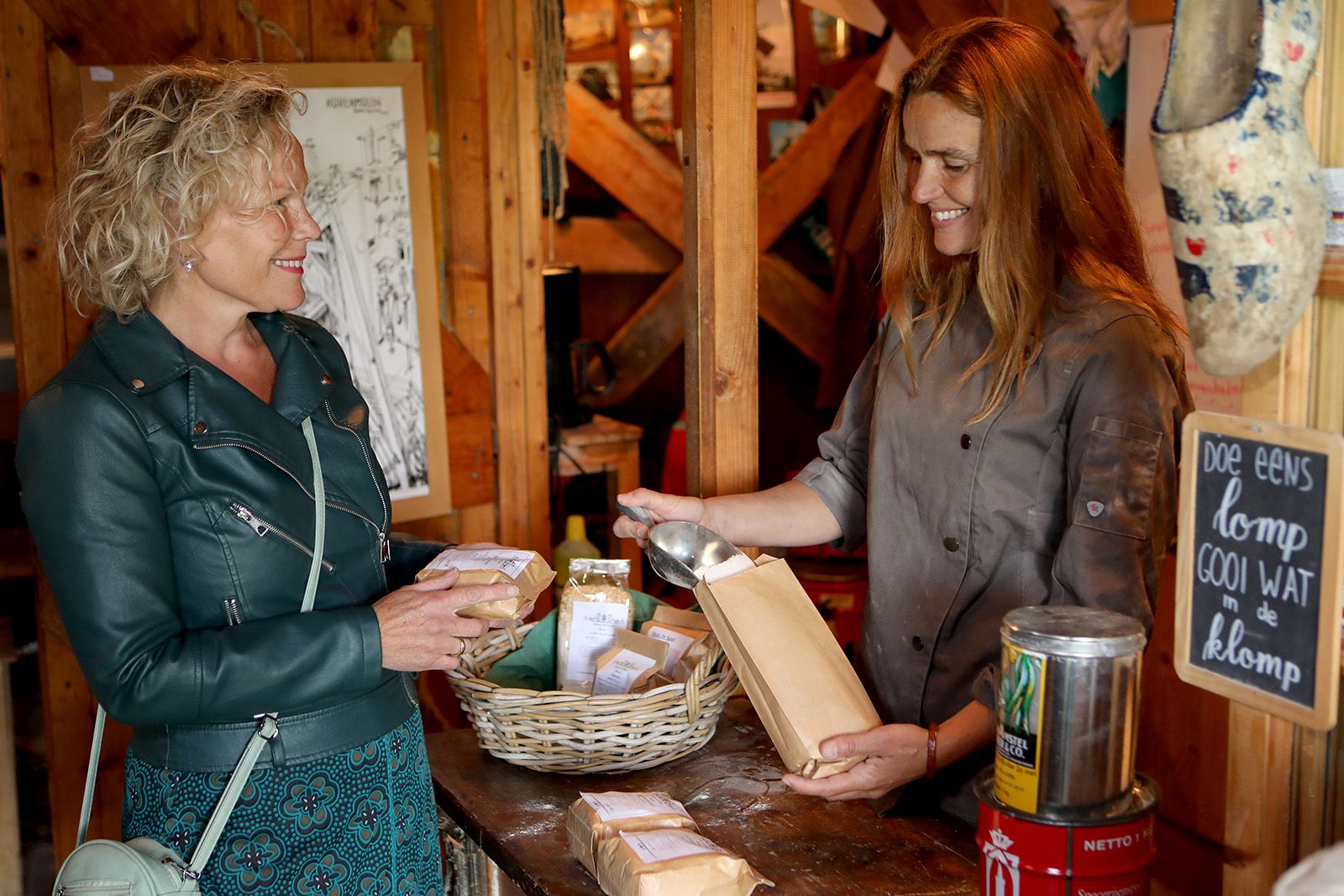 We leave the ridged landscape behind us and cycle through the hamlet of Spannenburg to head north, into an area of moors and lakes. In the distance, we can see the vast Slotermeer lake with elongated parcels of land in front of it. A stiff breeze is blowing, making this a challenging cycle trip.
We decide to swap our bikes for a comfortable chair and a cup of coffee and snack on the River Ee in Woudsend watersports village. In the background, the sails of Het Lam corn mill can be seen, along with De Jager wood mill a little further along, where robust logs are sawn into useable wood. We continue on our way.
"a stiff breeZe is blowing,
making this a challenging cycle trip."
An arrow points us in the direction of Bascule picking garden in the village of Hommerts. There can be no doubt that September is the harvesting month. The meadow is a true oasis of colour. Armed with a basket and scissors, we wander eagerly into the garden. There are various sections filled with flowers, courgettes, cucumbers and many types of squash with very exciting names such as the Hokkaido and the Pattypan.
The Pattypan is white and is related to the courgette. It looks like a flying saucer. Trinalda, she is the owner of Bascule, explains that the Pattypan can be used in many different ways, delicious in soup, in a pie or stuffed with a dip sauce. "And the seeds are also ideal for a lovely pesto!" Trinalda transforms our picked mix of sunflowers, dahlias, cosmos, grasses and chrysanthemums to form a beautiful natural bouquet. The only thing worrying us is how we'll transport that by bike?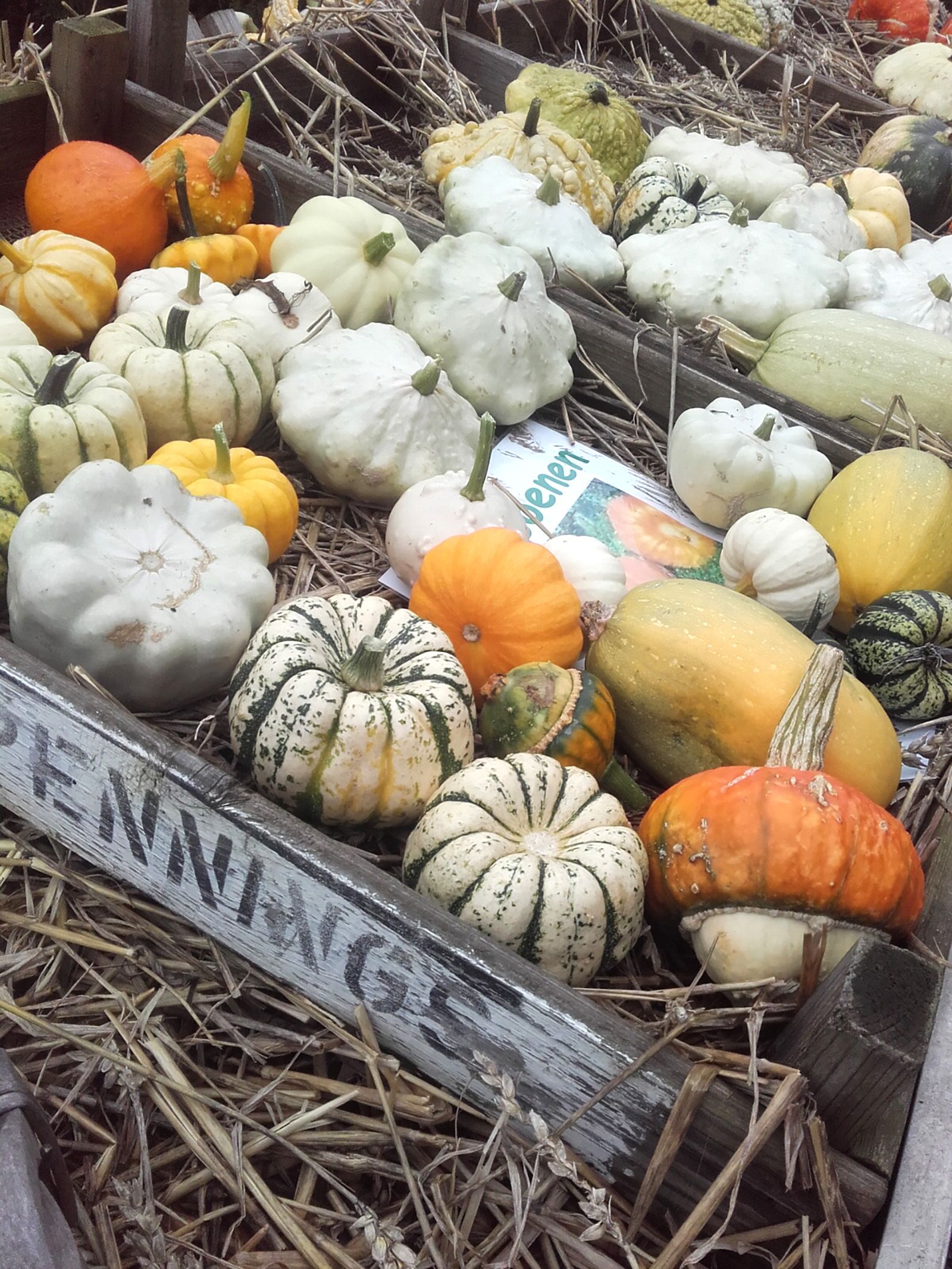 Cycling route
via junction points approx. 50 km
20-21-27-26-30-32-44-43-42-41-54
(continue on to Bascule picking garden)
54-41-40-39-68-29-85-28-19-20
Our bike bags are overflowing with courgettes, squash and beautiful flowers. We've harvested enough ingredients by now, and it's time to think about heading back. Cycling close to the water past Slotermeer lake, our reflection reminds us of a harvest festival. And that's exactly how it feels, a cornucopia on two wheels. Via the town of Balk, we welcome the shelter of Gaasterland woods, back into the Indian Summer. Somewhat weary but certainly fulfilled, we arrive back home. This became a challenging cycling trip both literally and figuratively thanks to the 'Pattypans', all the garden pickings and the (ground) corn. Time to head for the kitchen!
De Kaai
corn mill
Bolwerk Zuidzijde 81
Open on Saturdays in September from 13.00 – 17.00 hours and in October to December from 10.00 to 12.30 hours
Het Lam
corn mill
Molestrjitte 4
Open on Wednesdays from 13:00 – 17:00 and on Thursdays to Saturdays from 10:00 - 17:00 hours
De Jager wood
saw mill
Ald Wyk 18
Open on Saturdays from 9:00 - 17:00 hours
Bascule
picking garden
Jeltewei opposite no. 114 Hommerts
Open in spring, summer and autumn
COPY: GEERTJE BOUMA-POSTHUMA, PHOTOS: JAN TIJSMA AND PLUKTUIN DE BASCULE