Predator fishing adventure
in waterland
There's no need for fishermen's tales when you get home after a predator fishing trip in Waterland van Friesland. Pike perch measuring nearly a metre long can be fished out of the Sneekermeer lake on your average morning fishing trip. Of course, you'll need the right location, good equipment and a bit of luck. The experienced fishing guide, Jeroen from Predator Fishing Holland in Sneek, who can point you in the right direction with useful tips. Wilco and Robert Jan volunteered to take to the water on behalf of the tourist information office, to experience predator fishing in Waterland.
We started off with safety instructions from the fishing guide before setting sail. Perhaps the most important was to check your back before casting the line, in order to avoid hooking your fishing partner. Sunglasses are compulsory even in bad weather, as they function as safety goggles. Jeroen himself has been 'hooked' twice and he hopes never to have that experience again. "There's enough of that to be seen on YouTube. And no, predator fishing is not a dangerous sport.
It's only the people who are dangerous." We have our doubts however, after hearing an exciting story about catching pike. "When people start playing a pike, when reeling it in as it were, and they pull it on board too quickly.... It will be really 'pissed off'! If they then catch a couple of pike in succession and haven't played them long enough, you can expect some bloody limbs on board. Pike have 700 teeth after all!" Right, we get the picture. And so we head out to the Sneekermeer.
"predator fishing is not a dangerous sport.
It's only the people who are dangerous."
We stop just before Terherne sluice gates, one of the fishing hotspots of Sneekermeer lake The sonar shows us that the lake bed structure is ideal here. Wilco and Robert Jan start 'jigging', the trick being to jerk the fishing lures, the so-called 'jigs' at 15 to 30 cm from the lake bed before slowly allowing them to sink back down on a taut line. You are imitating a small, wounded fish, which is a very easy prey for predatory fish.
After 30 minutes of getting accustomed to the equipment and technique, Wilco springs into action. Got a bite! The rod is arched tightly, and we all enjoy the adrenaline kick. Jeroen immediately grabs the landing net, but soon concludes that he'll need a larger one for this pike. After an impressive struggle, the fish is reeled in to comments of 'oooh', 'fantastic' and other positive expletives we won't repeat here. Wow, what a monster fish. It measures in at 84 cm. "I haven't had one like that on board yet this year!" Jeroen exclaims. "I reckon it weighs around 4 kilos." After a quick photo shoot with the fish, Jeroen soon returns the pike perch to the water. This keeps the fish population healthy and Waterland van Friesland the number one predatory fishing spot.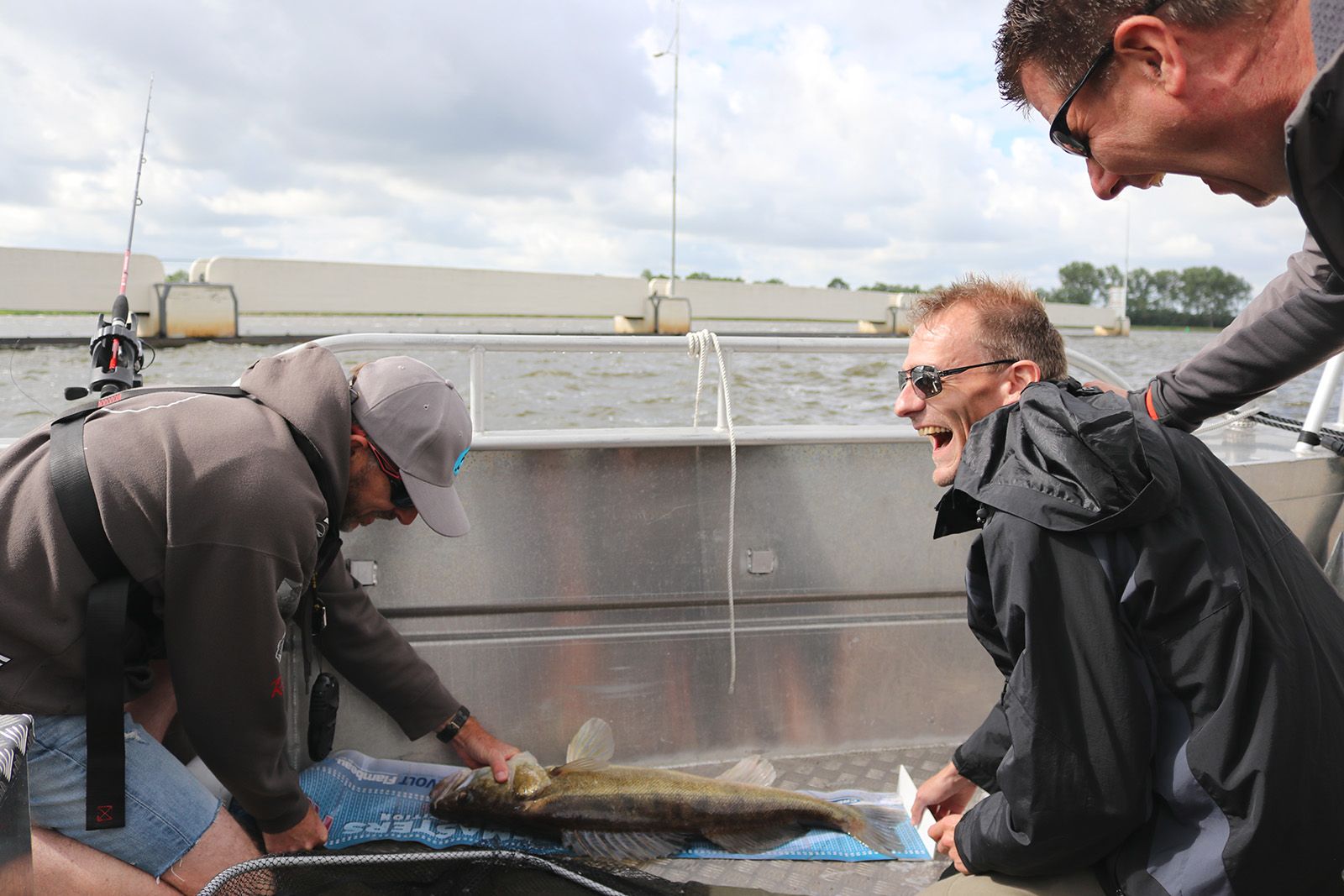 always a spot in Waterland
Waterland van Friesland is the ideal predatory fishing region. There's so much choice. The Friesian lakes, canals, ditches or even 'street fishing' in a picturesque town or village. Combine that with an excellent fish population in the Friesian waters and of course a VISpas permit. Then nothing can come between you and a fantastic fishing trip. Not fishing enough in Friesland to warrant buying a permanent VISpas permit? The weekly permit is unique in Friesland, and only costs around € 10.
Moonlight predatory fishing
Predatory fishing in the evening or night is even more exciting of course, and also ideal for beginners. You learn to trust your gut feeling even more, because it's harder to see your rod. Thus you become more aware of subtle movements in the line.
Friesland has the best fishing
Suitably impressed, Robert Jan and Wilco continue fishing. "I just think it's fantastic," says Robert Jan. "I've fished all over the world and it never dawned on me to go fishing with a fishing guide, but it's wonderful. The best fishing spot? That would have to be Friesland, my home. And now, it's Wilco who's caught that fantastic fish. He certainly deserved to, but I deserve to just a little bit more," he laughs.
"'catch and release':
that's the only way i work."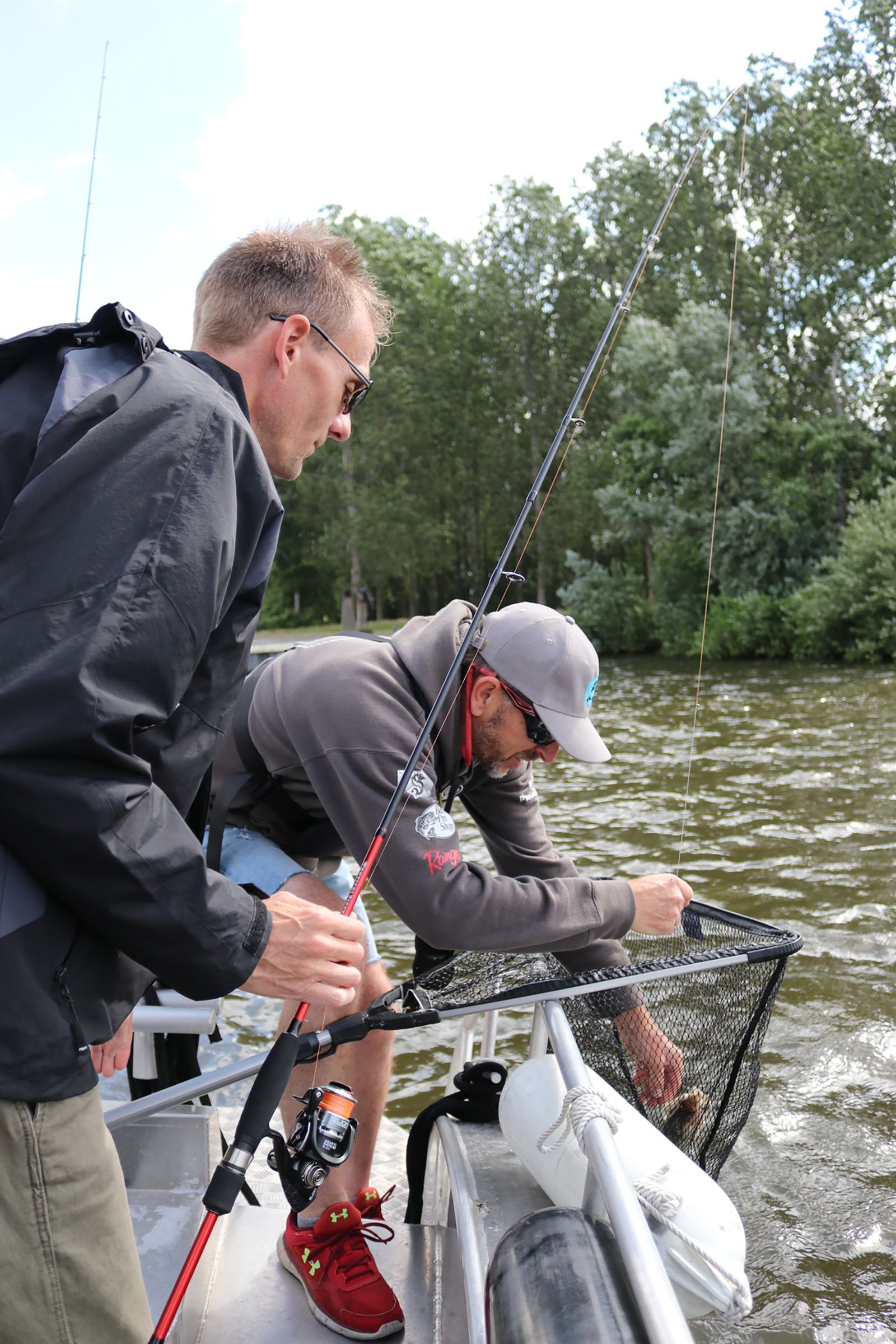 Apparently there are plenty more monster fish swimming in Sneekermeer lake, including catfish. "They've always been there, but we used to fish using a nylon line," Jeroen explains. "It simply wasn't strong enough to catch them. Nowadays, we fish using a woven line, so who knows, we may well get lucky sometime." And so we spent our time on board bragging a little about catching wonderful fish, the best locations and the most suitable equipment. And with this lovely weather, what an amazing morning it was. Fishing is definitely also worthwhile in the autumn, because the fish are at their fattest in preparation for the winter. "But I always put them back," Jeroen explains. "I only work by 'catch and release'."
Hire your own fishing boat or take a guided fishing trip
Would you like to hire a fishing boat or head out with fishing guide Jeroen in daytime, evening or possibly even at night? Reservations can be made directly at www.predator-fishing-holland.nl. Or why not opt for the latest trend of 'Street fishing': a tour by bike ('Bike for Pike') or on foot ('Hike for Pike').