sup in waterland
SUP, for anyone who does not know what these 3 letters stand for: Stand Up Paddling. A sport which has been popular in Friesland for more than 10 years now. And a wonderful way of exploring South west Friesland. On your own or to train for the ultimate challenge: the 'SUP Elfstedentocht'. A traditional route of 200 km paddling through the 11 historical cities of Friesland.
SUPtember 2019, from 11 to 15 September, will be the 11th time that the SUP Elfstedentocht is paddled. People travel to Friesland from all over the world to paddle between the 11 cities over a five-day period, with no less than 7 of them in Waterland in Friesland. Athletes from Japan, New Zealand, Tahiti and Austria, for example, all want to tick this unique event off their bucket list. Very special friendships are forged during this week. And even though they may vouch 'never to do it again' after having completed 200 km of peddling by Sunday afternoon, many people still return year after year.
NON-stop or a day of paddling?
There will always be athletes who want it even more extreme, which is why the NON-stop SUP11 City Tour was introduced 5 years ago. As the name suggests, it requires you to complete the route of more than 200 km within 36 hours. Just like the 'real' Elfstedentocht, you need to finish within a certain time. It is a tough undertaking, regardless of whether the weather is good or bad. Keeping going through the night will always be very arduous in this version of the event. If this all sounds too extreme for you, why not join us for one day or spread the days among a team?
Why not hire a SUP board to take a trip, from JFT Watersport in Sneek, for example: . Supping is easy to learn, only requiring a brief explanation before you get started on the sup board. You will wobble a little to start with, but will soon be able to enjoy a great paddling trip. And an added advantage is that it is a very effective workout.
For all your supping requirements: Easysup sup store, the number 1 SUPstore in Heeg, www.easysup.nl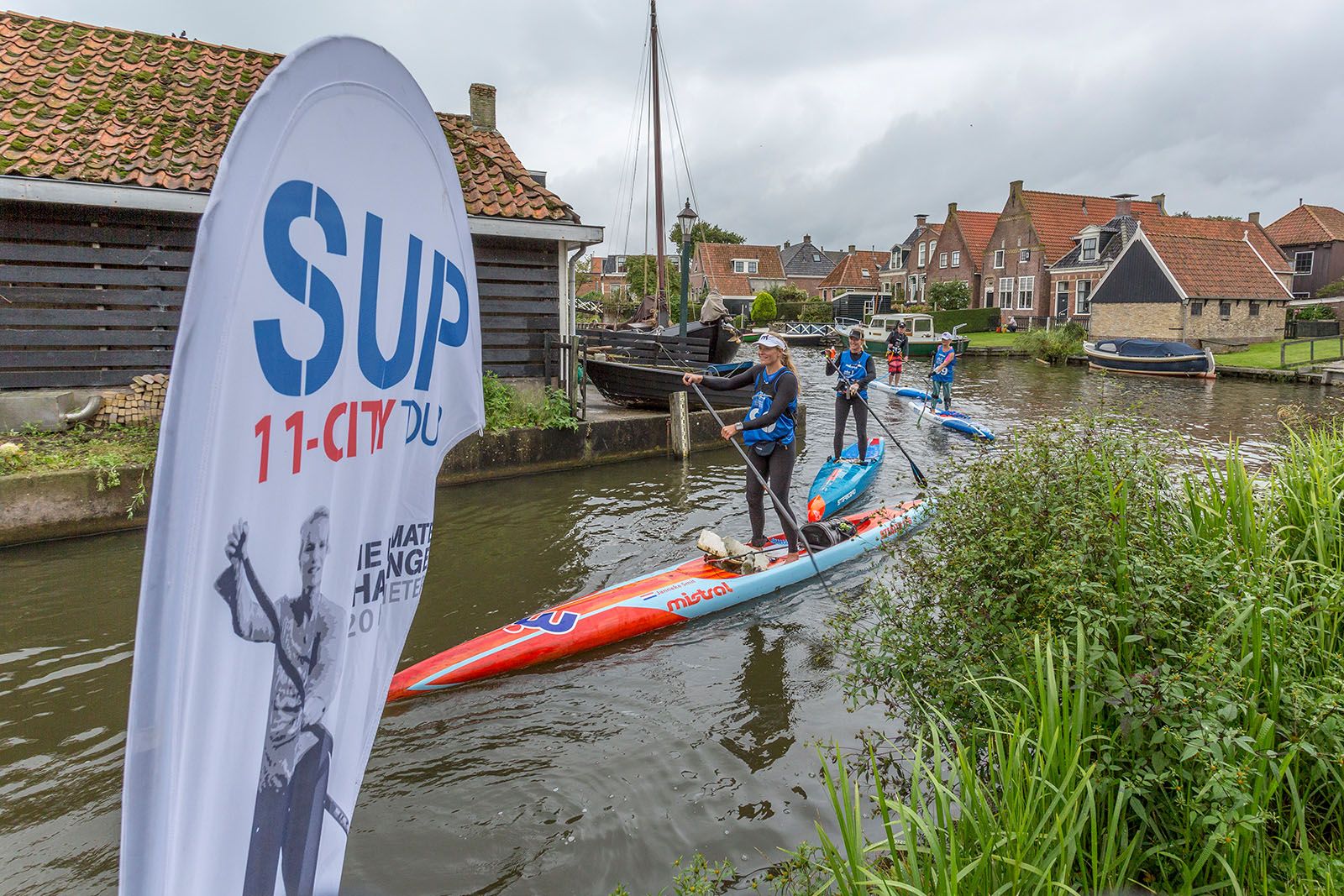 Sonderaktion
Im Monat SUPtember sind einige Unternehmer mit verschiedenen Rabattaktionen unterwegs. Eine Übersicht finden Sie auf www.suptember.nl. So kann man den sportlichsten Monat des Jahres noch extra preiswert genießen.
PHOTOGRAPHY: MAYOLA DIJKSMAN